As many others have done before me, I recently made the jump to Kinsta. My two most successful WordPress websites have already been migrated and have been rock-solid so far. Kinsta isn't comparable to other managed hosting provider because it is a managed WordPress hosting provider. This article will provide you with a list of reasons as to why you should consider Kinsta as your host, and why I no longer believe a managed hosting provider is the best option.
But before getting in to the detailed reasons, we need to take a step back because this article is part of a series on how to build a photography website, including a gallery, using WordPress, GeneratePress, and GenerateBlocks. Before you start building your WordPress website you will need to choose a host, and there are many options available.
Please note that I am in no way affiliated with Kinsta or any of its partners. I am a participant in the Kinsta affiliate programme and do receive a small cut of any purchase you make using my link, but that does not influence my opinion. I am a paying customer and plan on remaining one. If a service or product I believe in gives me the opportunity to get something back in return for a referral, I will gladly take that opportunity.
Why I gave up control and moved to Kinsta
I used to believe that us webmasters, as we were once called, should have the maximum amount of control. Though I was perhaps overestimating my skills, my thinking was that if someone else did something for me, it would be a potential point of failure.
With time, I started asking myself, what difference it would make if someone else, with years of experience, set up a database, instead of me. Why shouldn't I let a host, such as Kinsta, take control of some technical aspects of my WordPress website? As the saying goes, time is money. And if I am attempting to make money from my content (which I am) why exactly am I faffing about, fine-tuning my cache, cleaning databases, and what not?
Not just that, but with the increasing number of visitors my top sites were receiving, speed was becoming an issue. My experience so far has taught me that Kinsta are experts when it comes to WordPress site speed. Kinsta is powered by the Google Cloud Platform and has a content delivery network with 34 locations.
What makes Kinsta different
What differentiates a standard managed hosting provider you might be used to from Kinsta is that Kinsta is a new breed of managed hosting, specializing on only one thing: WordPress. As mentioned in the introduction, Kinsta is a managed WordPress hosting provider.
Practically, that means is that Kinsta will take care of the essential technical details, such as creating a database and installing WordPress. As part of the package, they will even migrate your existing site from your previous hosting provide. Admittedly, such a migration is not the hardest of tasks, but you would have to sit at your desk and download all of your content from one server, upload it to the other, make all the adjustments etc. With Kinsta, if something goes wrong during the process, experts already working on it.
The one argument against Kinsta
You might be asking yourself why anyone would ever not use Kinsta. The answer to that question is pricing. Kinsta isn't cheap. For the US$30 pay Kinsta monthly I could get a shared hosting plan with 200 GB of SSD storage, unlimited traffic, unlimited WordPress installations, and the ability to send 2'000 emails an hour. On Kinsta I get only 10 GB of storage, only one WordPress install and 25'000 monthly visits.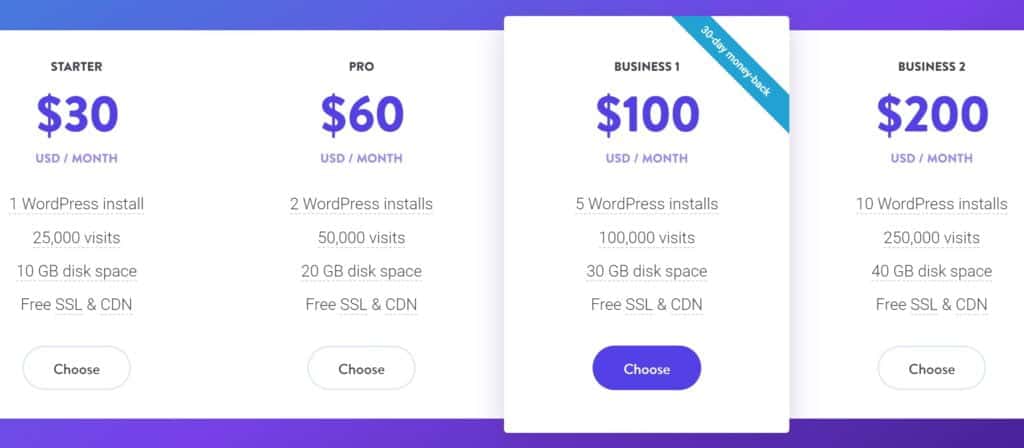 With that said, what I don't get from my shared hosting plan is a host that uses the Google Cloud Platform, and you know, Google has servers everywhere. I wouldn't be getting a host that allows me to enable a content delivery network in 34 locations with just a single click. And I wouldn't be getting a host that does all the dirty work for me.
How is Kinsta different to Wix and Squarespace?
But Liam, what you're doing isn't any different from using a website builder like Wix or Squarespace!

You, probably
In a way, you might be right. But you're also definitely wrong. Despite the similarities such as the ease of use and not having to set up databases or upload files using FTP, Kinsta still uses WordPress. You still have access to all the themes and plugins. You can take your site and host it with another provider, you can edit any file, add your own CSS, and bulk download media. Furthermore, you can create my own theme or have someone create a theme for you. You can use any fonts you want, and you can integrate just about anything. Hosting your site on Kinsta is WordPress with benefits.
This is award-winning support
After having migrated my first website to Kinsta, I was experience some catastrophic issues. Basically, my website was experiencing a worldwide outage. I was expecting the site to be down for some time, but after 24 hours I was beginning to worry. As it turned out, this was at no fault of Kinsta. The issue was partially caused by my actions and unfortunately, my registrar couldn't identify the cause.
I was chatting online with Ruby, one of Kinsta's support engineers, for hours, and they even told me what exactly I had to tell my registrar's support and sent me screenshots I could relay. By the end of this session, I was so pleased and relieved that I had a few nice words to say about Kinsta on Twitter.
A few weeks go by, and a letter arrives at my doorstep containing a bunch of stickers and a handwritten note from Teodora at Kinsta, thanking me for what I had to say. That is what I call award-winning (or awary-deserving) support.